History of the Periodic Table
In the 1800s, many previously unknown elements were discovered, and scientists noted that certain sets of elements had similar chemical properties. For example, chlorine, bromine, and iodine react with other elements (such as sodium) to make similar compounds. Likewise, lithium, sodium, and potassium react with other elements (such as oxygen) to make similar compounds. Why is this so?
Dimitri Mendeleev in Russia (1869) and Lothar Meyer in Germany (1870) independently recognized that there was a periodic relationship among the properties of the elements known at that time. Both published tables with the elements arranged according to increasing atomic mass. But Mendeleev went one step further than Meyer: Mendeleev's table included gaps for what he hypothesized were undiscovered elements. He used his table and relationships to discovered elements to boldly predict the properties of these undiscovered elements. Many scientists at the time were dismissive of Mendeleev's table. However, when elements were later discovered whose properties closely matched Mendeleev's predictions, his version of the table gained favor in the scientific community. In the figure below, you can see some of the elements Mendeleev placed in his table have a dash (-) instead of a symbol – these elements had not yet been discovered at the time.

Because certain properties of the elements repeat on a regular basis throughout the table (that is, they are periodic), it became known as the periodic table. The periodic table is one of the cornerstones of chemistry because it organizes all the known elements on the basis of their chemical properties. Modern periodic tables list elements in order of atomic number, not atomic mass.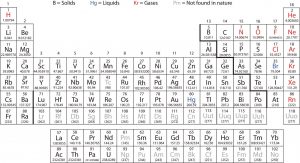 The atomic number is the number of protons in the nucleus of an atom (for more details about protons and the nucleus of an atom see Chapter 2 "Anatomy of an Atom"). This is the defining trait of an element: Its value determines the identity of the atom. For example, hydrogen has the atomic number 1; all hydrogen atoms have 1 proton in their nuclei. Helium has the atomic number 2; all helium atoms have 2 protons in their nuclei. There is no such thing as a hydrogen atom with 2 protons in its nucleus; a nucleus with 2 protons would be a helium atom. Protons were discovered after Mendeleev's time in 1910,  and although he did not know about protons and atomic number, the elements on his periodic table fit the atomic number ordering system exceptionally well.
Features of the Periodic Table
Elements that have similar chemical properties are grouped in vertical columns called groups (or families). Each box represents an element and contains its atomic number, symbol, average atomic mass, and (sometimes) name. Each row of elements on the periodic table is called a period. Periods have different lengths; the first period has only 2 elements (hydrogen and helium), while the second and third periods have 8 elements each. The fourth and fifth periods have 18 elements each, and later periods are so long that a segment from each is removed and placed beneath the main body of the table.
Many elements differ dramatically in their chemical and physical properties, but some elements are similar in their behaviors. For example, many elements appear shiny, are malleable (can be formed into thin sheets without breaking) and ductile (can be drawn into wires), and conduct heat and electricity well. Other elements are not shiny, malleable, or ductile, and are poor conductors of heat and electricity. We can sort the elements into large classes with common properties: 
metals

elements that are shiny, malleable, and good conductors of heat and electricity

shaded yellow on the periodic table below

nonmetals

elements that appear dull, can be brittle, and are poor conductors of heat and electricity

shaded green on the periodic table below

metalloids (or semimetals)

elements that conduct heat and electricity moderately well, and possess some properties of metals and some properties of nonmetals

shaded purple on the periodic table below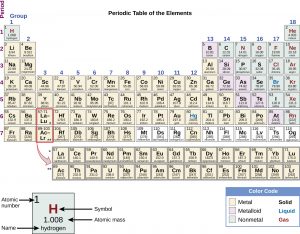 ---
Attributions
This page is based on "Chemistry 2e" by Paul Flowers, Klaus Theopold, Richard Langley, William R. Robinson, PhD, Openstax which is licensed under CC BY 4.0. Access for free at https://openstax.org/books/chemistry-2e/pages/1-introduction
This page is based on "Chemistry of Cooking" by Sorangel Rodriguez-Velazquez which is licensed under CC BY-NC-SA 4.0. Access for free at http://chemofcooking.openbooks.wpengine.com/
This page is based on "The Basics of General, Organic, and Biological Chemistry" by David W Ball, John W Hill, Rhonda J Scott, Saylor which is licensed under CC BY-NC-SA 4.0. Access for free at http://saylordotorg.github.io/text_the-basics-of-general-organic-and-biological-chemistry/index.html