Appendix Two – Student Examples
Andy Gurevich
Resources to Accompany This Text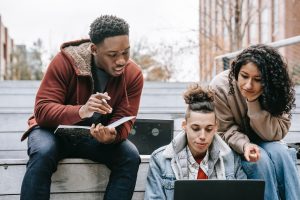 For a growing list of instructor and student resources to accompany this text, visit this OER Commons page.
At this site, writing colleagues are in the process of building a repository of various materials to aid instructors in using this text and in teaching courses at this level of college reading and writing. These include sample syllabi and assignments, supplemental readings, additional exercises and activities (in addition to those we offer in this text), multimedia materials, and more. Please check back regularly, as we have plans to add new materials as we gather them.
The following student examples are used with permission of the students and represent a wide range of student scholars who created excellent projects using the methods discussed in this text. Remember, the goal is clarity and authenticity, not perfection. And it is the process that matters more than the final product, in most cases. Stay true to yourself, make sure you understand the assignment, open yourself to knew ideas and perspectives, and trust the process. And when in doubt, ASK QUESTIONS!
The following sample students essays, bibliographies, and multimodal projects were created in response to various college-level assignment prompts There are a few traditional essays and a few multimodal presentations to give you an idea of the range of possibilities available to you when diving into the world of college essay "writing." No essay is technically "perfect." Perfection is not our goal as much as clarity of thought, depth of understanding, and intentional flow and organization. I think you will see that the students below all took the prompts and made them their own. In doing so, they not only fulfilled the requirements of the given assignment, but also infused their projects with their own ideas, experiences, values, and interests. The results are extraordinary, but also completely attainable by any writing student who is willing to pay attention, stay focused, and do the work. Although the following "essays" vary from one another greatly in content, tone, style and purpose, they all do share several key elements which make them all successful:
Each student fully understood the assignment and writing prompt(s) before they began researching and creating their projects.
Each student took the time to explore and evaluate several relevant, authoritative sources in the process of learning more about their research topic.
Each student blended their own opinions, thoughts, and responses into what they were learning from the relevant and authoritative sources they were finding in the research process to craft engaging thesis statements and main ideas. This provided balance, allowed them to consider differing perspectives, and enhanced the relevance and complexity of their own opinions when they did offer them as support.
Each student cared more about substance and honest engagement than they did about structural formalities and formatting. Although all elements of the writing process are essential and work together to build solid, academic communication, the best essays focus more on strong ideas and authenticity than they do structure.
Each student used many of the available tools, support systems, and technologies to assist them in creating engaging, relevant projects that more than satisfied the requirements of their original assignments.
Each student reached out for help when they needed it.
Each student worked on their projects over a period of time. This gave each of them adequate space to think, research, integrate, write, edit, and revise their projects before turning them in to be graded.
Student Examples (Multimodal)
An amazing student presentation on the origins of the Bridge of the Gods myth in Hood River, Oregon and how it holds essential information about the culture, history, and values of the original peoples of the region, including the student's own family and heritage
A wonderful student project exploring feminist themes and mythic symbolism in the movie Kill Bill.
A wonderful example of a piece of multimodal composition from a former WR 122 student. Consider doing something like this for one of your essays. Reach out to me for some further instructions if you chose to go this route.
A great student presentation about the significane of mythic themes such as monsters, portals, and magical powers in the show Stranger Things.
A gorgeous an intriguing PowerPoint exploring how the Korean Pop icons weave mythic themes and characters into their songs.
Student Examples (Essays)